Guides and Terms
Wanting to get a repair? Come read about the terminology you'll encounter.
How to Find the Nearest Station and Long Route Plotting
Suggested Ship Builds and Modules
Common Terms
Here's a list of some common terms and abbreviations used during repair procedures. These are not required, nor official. As such, this list is provided as a courtesy. You are encouraged to use whatever works for you, so long as others can understand easily. In general, + is used for an affirmative or a good result, and - for a negative or bad result.
Used during Repair Ops:
BC: Wing Beacon.
Chemseal: Hull Seal with Decontamination Limpet
CB: A Code Black Situation
DC: Disconnected, or kicked out of the game. Also used for game crashes.
FR: Friend Request.
Fuel Rat: A member of The Fuel Rats organization with a focus on emergency response for fuel shortages.
Inst: Instance.
Killer Whales: Hostile Players.
Mechanic: Members of the Hull Seals.
Mode Conf: Game Mode confirmed on Comms Panel.
Otter: A Hull Seal with Fuel Limpet Controllers onboard, capable of providing emergency fuel.
Pied Piper: A Seal on a Code Black who leads Clients to stars for fuel, providing a guide of safe range for scooping.
RC+: Repair Completed (Or RC Cola acquired).
RL+: Repair Limpet Engaged.
PW+: Paperwork Complete.
Seals: This fine organization, or members thereof.
Sharks: Hostile Ships.
Sys Conf: System confirmed on the galaxy map.
Walrus: A Hull Seal equipped for defensive, NPC-ONLY actions.
WR: Wing Request.
Common Terms and Abbreviations
The Bubble: Civilized Space, commonly fought over by powerplay factions.
Blob: Did you know a group of seals is actually called a Blob?
Client: The person in need of hull repairs.
Cascade Winging: The way of quickly pulling CMDRs to an instance by entering with a wing, leaving, and pulling in more exponentially.
Dispatch: The trained player coordinating the repair and assignment of Seals.
Pup: A Seal-In-Training.
Drebin's Lament: An unsuccessful Code Black.
XA: Explorer's Anchorage, the most remote station in the galaxy. Located near the center of the galaxy.
Common Mistakes and Issue Troubleshooting
General Troubleshooting
During rescues, there are numerous issues that can present themselves. This guide is designed to help Seals fix these issues onthe-go.
Instancing Issues Checklist:

Confirm Instance Type (Open, Solo, Private Group)
Verify system target and cycle wing beacons.
Confirm that messaging can go through.
If sending a test text message fails, have both parties restart the game.
Check the geographic location of the parties involved. If parties are from different geographic regions (Ex, States vs Oceana) consider sending a different responder.
Reinstance via Supercruise and Nav-Lock drop.
Attempt manual drop, without using navlock.
Sometimes Explorers don't fly alone! Try having a friend wing both the Seal and the Client in.
 

Hostile CMDRs

Sometimes, for one reason or another, independent CMDRs delight in disrupting intergalactic rescue vessels. The first step is to remain calm.
If you suspect a hostile CMDR may be in the area, inform your Dispatcher immediately.
For added security, have one of the SEALS form a private group with the CMDR. This can be done from the Friends and Private Groups tab in the main menu.
If you come under fire, all seals are to withdraw immediately, as well as the client, by any means fit.
Please note, this does not mean combat logging. Combat logging (force quitting to the Main Menu) is
considered an exploit by FDEV, and is not supported by this organization.
If engaged by a hostile NPC, inform Dispatch and seek the advice or assistance of a Walrus. Do not request Walrus support for hostile CMDRs.
PC
Most information on this base is written with the PC framework in mind. Therefore, except when specified, all information and troubleshooting guides should apply.
There are known network and instancing issues related to the geographic location of CMDRs. If this issue presents itself, and reinstating fails, possibly assign a Seal from a different geographic region.
PlayStation
The biggest point of concern with PLAYSTATION rescues is that the CMDR must add his or her Seals to their PSN friends list in order to receive our service. Ensure that the client knows how and is able to do so.
In order to use our services, the CMDR must also be paying for the PSN network pass. Without this network, we will not be able to service the CMDR.
Xbox
The biggest point of concern with XBOX rescues is that the CMDR must add his or her Seals to their XBOX LIVE friends list in order to receive our service. Ensure that the client knows how and is able to do so.
Sometimes, Online Privacy and Safety Settings are not set properly to allow friend requests to be sent or received.

If issues arise, ensure the client is set to ONLINE in their profile and that their privacy settings are set properly.

If issues persist with friend requests, have one or both of the Seals attempt to FR the Client.
If the XBOX LIVE servers are offline, the rescue must be postponed.
Other Tips and Tricks
Sometimes, Seals find resources or tools that are useful to share, that we think are worth sharing. However, these don't exactly fit well in other categories or on other pages. This page contains a few resources that we've found over our time in the Galaxy.
Please keep in mind, this page contains links to resources the Seals are not responsible for and have no control over their content. Please contact us with any questions or concerns, and be careful about what sites you visit on the web.
---
Charts and Graphs
Ship Size Chart
Link: https://www.elite-dangerous-blog.co.uk/image.axd?picture=/chart/ship-size-chart-3305-edition-small.png
Source: https://www.elite-dangerous-blog.co.uk/post/Ship-Size-Chart-3305-Edition
---
Stellar Object Scan Chart
Link: https://i.imgur.com/1meKYTH.jpg
---
Stellar Object Value Calculation (Approximate)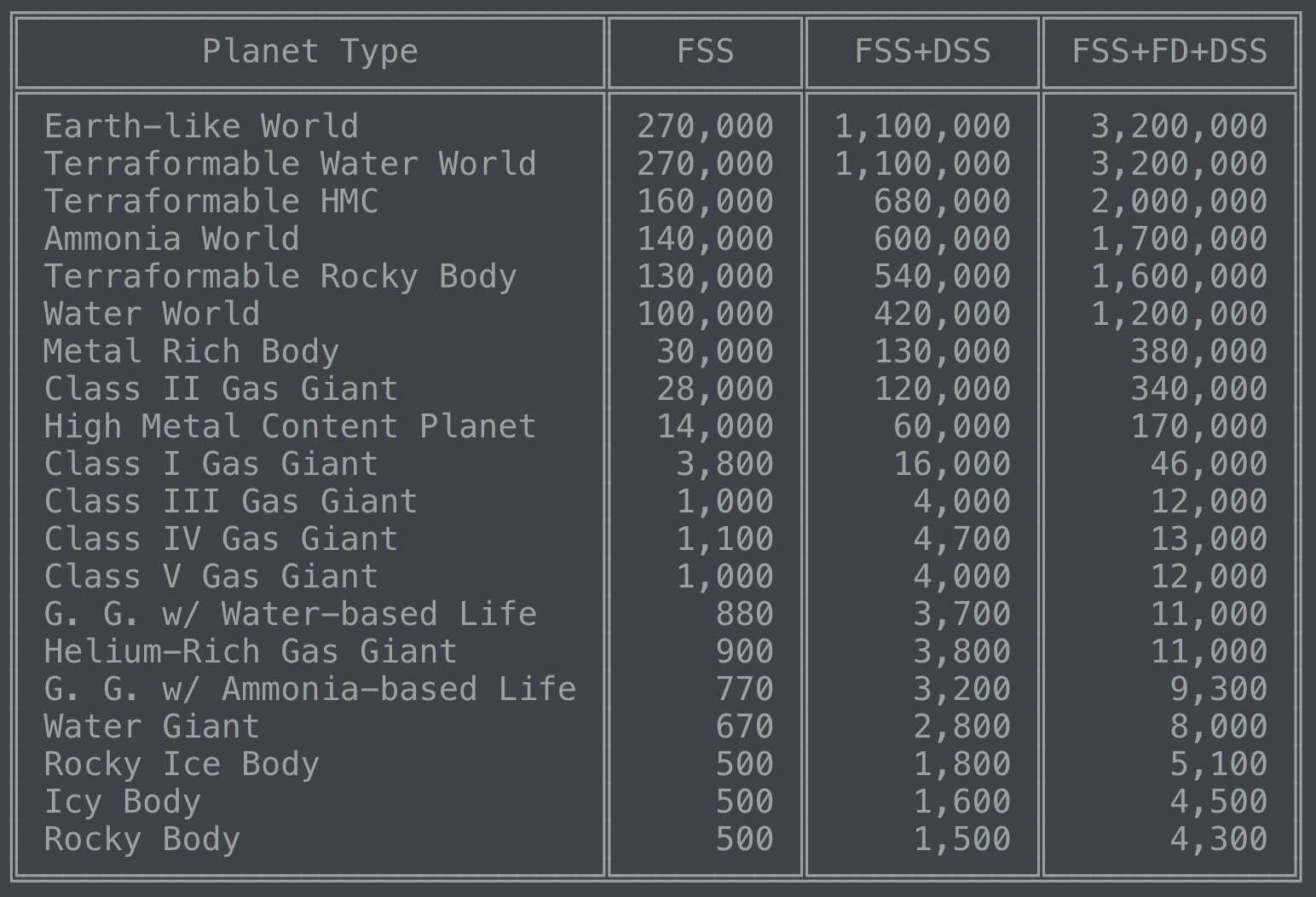 Source: Fleetcomm Discord Bot
---
Efficiency Target Plotter

---
Reddit and Forum Guides
Unlocking Engineers quickly:
https://np.reddit.com/r/EliteOne/comments/8bs6g8/foxs_stepbystep_guide_to_unlocking_engineers/
Guardian Modules:
https://forums.frontier.co.uk/threads/walkthrough-guardian-module-blueprints.438289/#post6856649
Guardian Weapons:
https://forums.frontier.co.uk/threads/walkthrough-guardian-weapon-blueprints.445508/#post6979326
Guardian SLFs:
https://forums.frontier.co.uk/threads/walkthrough-guardian-vessel-blueprints.446206/#post6993998
Finding Escape Pods:
https://forums.frontier.co.uk/threads/guide-fast-way-to-find-occupied-escape-pods-near-colonia.447311/
Material Engineering Database:
https://forums.frontier.co.uk/threads/elite-dangerous-scavenger-a-new-database-of-materials-for-engineers.367052/
---
Mining Info
When it comes to the Seals, one of the most important people to have around during Code Blacks is our miners.
iMU mining guide. All things mining:
https://www.reddit.com/r/EliteMiners/wiki/index
Hotspot overlap locator tool:
http://edtools.ddns.net/miner
To find the best selling price of painite:
https://eddb.io/commodity/83
iMU Discord:
https://discord.gg/jFcrtdj
Calculations for fragments coming off rock faces with lasers

| | | |
| --- | --- | --- |
| Laser Size | Factor | Power Usage |
| Small | 1.0 | 1x |
| Lance | 1.2 | 1.2x |
| Medium | 3.0 | 2x |
---
Broken Canopy Navigation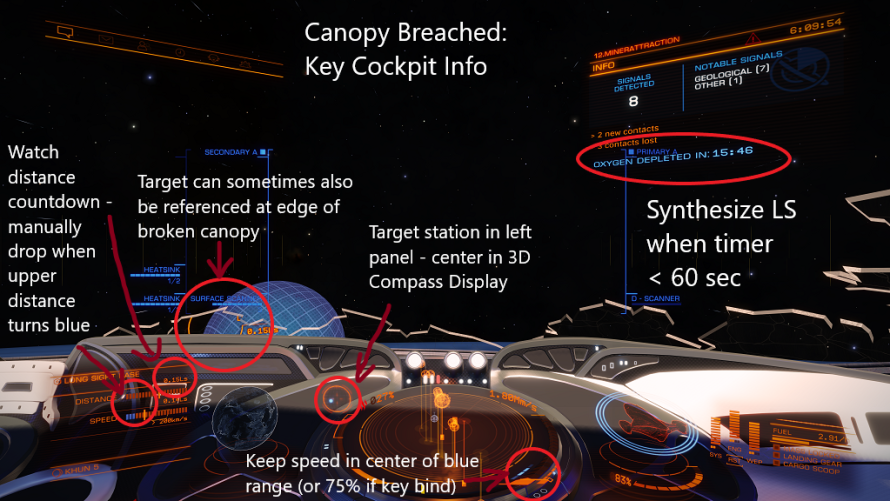 ---
Galaxy Navigation
Down to Earth Astronomy Program: https://drive.google.com/drive/folders/1Q0Ffy3ZkS6b3-GGcPVAFCPIQbTBjXEXo
Video about the software: https://www.youtube.com/watch?v=XPAjvogRp2o
Neotron's program: https://github.com/neotron/EDPathFinder/tree/1.3.0
---
Technical Guides and Tools
Keybind Backup: https://github.com/Noodles4Pasta/Save-ED-Keybinds/releases
Elite: Dangerous Ports:
These are the TCP and UDP ports in use by the game.
TCP 4430/6661
UDP 19364/3478/3479
---
Other Text Guides
Mat Farming Guide
https://docs.google.com/spreadsheets/d/1yo1iHP9KUXpoBaIzJsRsDxfAcQa7cBq0YUIFy3m2NII/edit
---
Materials
Thargoid Mats
HIP 17403 A4 crashed ship
1/2 way between the 2 lower ships, sensors will roll down the hill and can be shot to get Sensor fragments. Relog and do it again.
(my favorite location, also available at the location below)
Hyades sector aq-y d81
meta alloys and thargoid mats.
GUARDIAN MATS
Synuefe EN-H d11-96
Look for "convoy" and "ship wreckage" signal sources to find the guardian mats per Will's post here:
https://forums.frontier.co.uk/posts/7869982/
GUARDIAN DATA
Synuefe NL-N C23-4 B 3
48.1808, -48.3718
There are two Obelisks right next to each other. Stand in between them. Scan both, relog, rinse and repeat.
From CirrusFlare
Manufactured Mats
Synuefe jb-g b58-6 6h
"Camp C-N04"
Or
Hyades Sector DR-V c2-23 A 5
Dav's hope
Or any high-grade signal source
HIP 12099 planet 1b
Jameson's crashed cobra
For data mats and trade.
Raw mats
Outotz HD-J D9-3
Planet B 8 D Antimony.
HiP 36601
Planet C 1 A Polonium
Planet C 1 D Ruthenium
Planet C 3 B Tellurium
Planet C 5 A Technetium.
Outotz LS-K D8-3
Planet B 5 A Yttrium
---
Recommended Engineering Pins
Your mileage may vary. However, for a general feel of things, this is the "Community-Suggested" pins.
Core Internals
Selene Jean: Armor (not HRPs, because you can taxi HRPs out and do them there)
Hera Tani: Power Plants (Armored)
Elvira Martuuk: FSD (Longrange)
The Dweller: Distributors
Professor Palin: Thrusters
Lori Jameson: Life Support (No G5s)
Juri Ishmaak: Detailed Surface Scanner
Marco Qwent: Power Plants (Overcharge up to G4)
Felicity Farseer: FSDs (Shielded)
Tiana Fortune: Sensors
Optional Internals
Lei Chung: Shield Generators
Bris Dekker: FSD Interdictors (No G5s)
Utility Slots
Didi Vatermann: Shield Boosters
Ram Tah: Heatsinks
Weaponry
The Sarge: Cannons
Broo Tarquin: Beams/Pulses/Bursts
Zacariah Nemo: Frag Cannons
Liz Ryder: Missiles or Torpedoes
Tod McQuinn: Multicannons or Rails
Bill Turner: Plasma Accelerators
---
Quick and Dirty Seal Ships
No Engineering, No Fluff, quick and dirty.
Asp X
https://s.orbis.zone/47h3
Krait Phantom
https://s.orbis.zone/47h9
Anaconda
https://s.orbis.zone/47hc
Ship Technical Stats
Jump Ranges:
https://tinyurl.com/upjump/
How to Get Ships Fast:
Nemisis_quick_build_guide.docx
ARX
Completely subject to change.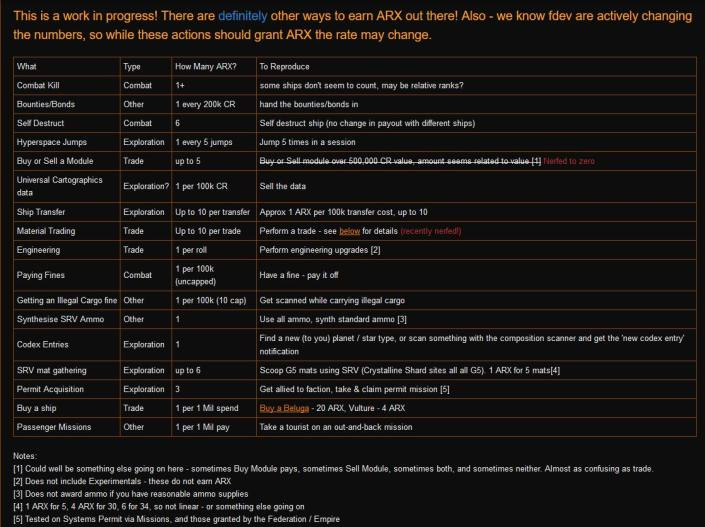 Fantastic Shortlinks and Where They Lead
The following is a list of shortlinks that the Seals use, and where they lead. This list is not exhaustive, and many such links exist.
Fleet Carriers
The Hull Seals plans to operate 3 Fleet Carriers, providing essential services to Explorers across the galaxy.
H.S.C. Limpet's Call
The Limpet's Call, the flagship of the Seal Fleet, operates as a member of the Deep Space Support Array, a coalition of Carriers by Fleetcomm and the Distant Worlds Organization. The Limpet's Call is currently stationed in Phroi Bluae QI-T e3-3454, to support explorers and provide an anchor point and base in the Rykers Hope region as part of the DSSA.
H.S.C. [Name TBD]
The [Name] operates on an at-rental basis for expeditions, providing a dedicated repair and support array for expeditions. Unlike usual Seal services, this does come at an in-game fee.
Expeditions who rent out the carrier must cover all fuel, upkeep, and maintenance costs for the carrier, for the duration of the expedition. This fee can be covered in many different ways, from material donations, commodity markets, and others.
If you'd like to rent out the carrier for your expedition, contact us!
H.S.C. [Name TBD]
The [Name] is the Seal's last resort when all else fails. She is the Seal's ace-in-the-hole. A massive logistical response - but no cost is too great to help a client.
If a Client gets themselves into a system they cannot escape from, if practical, the Seals will jump the [Name] into system to attempt a rescue of the client. This situation is a logistical challenge - and is an option not chosen lightly.
Soon
This is a Silly Article
The content in here isn't to be taken super-sealiously, and is provided for laughs.
Soon
"Soon" is a general term used by the Seal Leadership (and Seals in general) that provides no context for actually when a particular thing will be done or released. All "Soon" means is that it is under consideration by the Seal staff, in discussion, or in development.
"Soon" does not imply a particular date, time, state of being, flow of direction, or any specific point in our understood reality in the past, present, or future. There is no guarantee that "Soon" will ever happen, or that it won't happen. Any promises of "Soon" should be taken lightly. "Soon" can be interchanged with many other words that all mean the same or similar things, including but not limited to "Could", "Might," "Plans to be," "Near Future", "Recent", and more.
"Soon" is dependent on a number of factors, both in and out of the control of the Seals, including timezones, the difficulty of the task, the importance of the task, ethical dilemmas, the average cost of a pound of fish, unexpected maintenance, third-party vendor delays, unexpected heat-deaths of stars, new projects adopted, changes to the Elite and other games, and actually getting our scattered minds to focus on a single topic.
Types of Soon
We'll fill this out Soon.
Examples of "Soon"
| | | |
| --- | --- | --- |
| Thing | First Announced | Actually Released |
| IRC | On or Before 10 April 2019 | November 23, 2020 |
| CMDR Management v2 | 23 June 2020 | 24 June 2020 |
| Automated Paperwork | 10 August 2019 | 29 May 2020 |
| Merch | 16 April 2019 | 23 February, 2021 |
| Ship Registry | 28 April 2019 | 16 June 2020 |
| Accounts System | 15 July 2019 | 22 December 2019 |
See Also
---
Soon at the World of Warcraft Wiki
Valve Time at the Valve Developer's Community
Real Soon Now at the Wictionary
Ship Registry Codes
For some CMDRs, the Seals may be their primary - or only - social group in the game we all share and love. Sometimes, people want to rep and show off their ships, or emblazon their ships with things that identify them as Seals. This page will attempt to provide some cohesion and unity to the clutter of prefixes, registry numbers, and the like for both Carriers and Ships alike.
Some Guidelines
As this is a method of showing off your Seal membership in-game, any ship or carrier flying with either Seal prefixes, Seal registry codes or any other method of displaying "Seal" status, must conform to the following guidelines:
Any Seal who is registered and in good standing may choose to make their ship or carrier a "Seal" vessel.
Any Seal who is registered and in good standing may use any registered Seal prefix.
Only the three carriers under the direct control of the Staff are considered "official" carriers.

You may not advertise your carrier as "Official", and your actions are your own and not the groups.

(For Carriers) If you are declaring an official "squadron" or backing as the Seals for things like expeditions or events, you must get Admin approval and follow the same procedures as you do with your regular ships.
All ships named in this way, or displaying affiliation in any way to the Seals, may only engage in CONSENTUAL PvP only. The onus is on the Seal to be able to prove the PvP was consensual if issues arise.
While on duty or on a call, PvP is forbidden.
Registry Numbers
You can view all registered Seal ships at Our Fleet page. Registration is optional. To manage your ships, go to our Vessel Registry portal.
All Seal ships begin with the prefix HS, and then a unique number of up to 4 digits. Variation is common among independent ships.
Ship Prefixes
This is a Silly Section

The content in here isn't to be taken super-sealiously, and is provided for laughs.
HSRC
Hull Seals Rescue Carrier
The Generic Prefix for Carriers
HSRV
Hull Seals Rescue Vessel
The Generic Prefix for Ships
HSHC
Hull Seals Heavy Cruiser
Medium and Large Combat Ships
HSPS
Hull Seals Patrol Ship
Small Ships
HSSS
Hull Seals Support Ship
Non-Combat vessels like limpet warehouses, etc.
HSXV
Hull Seals Experimental Vessel
We're breaking some serious science!
HSCV
Hull Seals Cartographic Vessel
Exploration and Mapping Vessels
HSS
Hull Seals Ship
An Alternative Generic Prefix
HSSC
Hull Seals Small Craft, Hull Seals Support Carrier

SLFs, Shuttles, Tiny ships.

Alternatively, Support Carriers

KFRV
KingFishers Rescue Vessel
Kingfisher-primary vessels
HSCB
Hull Seals Cargo Barge
Cargo Ships
HSW
Hull Seals Walrus
Ships designed to defend clients from hostile NPCs, allowing time for the Client to escape.
HSA
Hull Seals Auxillary
Reserve Seal Ships
HSDV
Hull Seals Decon Vessel
Ships equipped with decon limpets
HSFB
Hull Seals Fun Bus
"Because y'all need a fun bus" ~ Flyerblade
HSTC
Hull Seals Transport Carrier
Carriers used to shuttle around Seals
HSFC
Hull Seals Fuel Carrier
Carriers used to refuel the other Seal carriers
HSMC
Hull Seals Mining Carrier
Carriers carrying Seal mining teams
HSMV
Hull Seals Mining Vessel
Seal Ships specialized for Mining
HSA
Hull Seals Asylum
Ships designed to contain Seals...
Frequently Suggested Things
It's often been said there's no such thing as a bad idea - and that's true enough. However, sometimes there ideas that are brought up a lot as "the next big thing" for the Seals, but for one reason or another just don't work out. While we don't discourage new ideas, sometimes after a topic gets brought up so many times, we have to lay it to rest.
Case Management in Discord!
Perhaps one of the most common suggestions is to cast off IRC and return to managing and receiving cases exclusively in Discord. Discord is great for groups of friends, and in fact the Seals maintain a social presence on Discord, but we don't take cases anymore there like we did during DW2. Discord has downtime we can't control, prevents our management of troublemakers who might join, requires accounts, and other issues that we can't control.
The bridge bot has downtime we can't account for.
The bridge bot sometimes has issues with different charactersets
The bridge bot sometimes scrambles the order of messages
What happens when Discord goes down?
Roster Lists of Seals by Timezone
This is a super slippery slope that we're very, very uncomfortable treaing down. By rule, the only way for a Seal to be assigned to a case is to call jumps - even friendly "hey, XYZ are you online/can you take this?" makes us wary. We don't want Seals to feel pressured to Seal by being online, or being during their "usual" time. Sometimes, people can't respond but want to chat, and sometimes, people want to just play the game and not Seal.
While we encourage Seals to seal when they can, we don't want to make the Seals a "Seal all the time or leave" atmosphere either. Not to mention... you might be online, but on the other side of the galaxy. Sometimes, you're just plain out of range.