Other Tips and Tricks
Sometimes, Seals find resources or tools that are useful to share, that we think are worth sharing. However, these don't exactly fit well in other categories or on other pages. This page contains a few resources that we've found over our time in the Galaxy.
Please keep in mind, this page contains links to resources the Seals are not responsible for and have no control over their content. Please contact us with any questions or concerns, and be careful about what sites you visit on the web.
---
Charts and Graphs
Ship Size Chart
Link: https://www.elite-dangerous-blog.co.uk/image.axd?picture=/chart/ship-size-chart-3305-edition-small.png
Source: https://www.elite-dangerous-blog.co.uk/post/Ship-Size-Chart-3305-Edition
---
Stellar Object Scan Chart
Link: https://i.imgur.com/1meKYTH.jpg
---
Stellar Object Value Calculation (Approximate)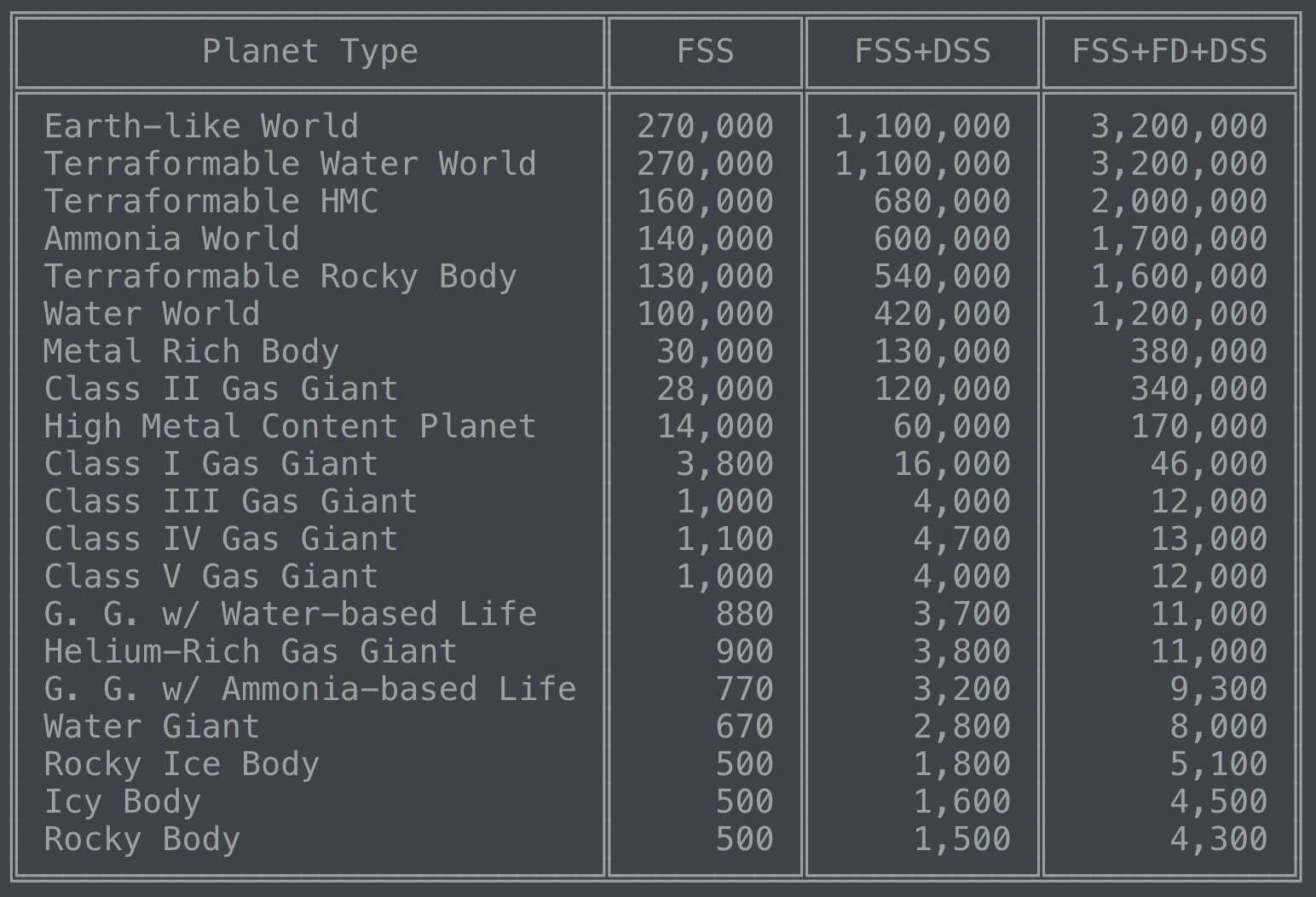 Source: Fleetcomm Discord Bot
---
Efficiency Target Plotter

---
Reddit and Forum Guides
Unlocking Engineers quickly:
https://np.reddit.com/r/EliteOne/comments/8bs6g8/foxs_stepbystep_guide_to_unlocking_engineers/
Guardian Modules:
https://forums.frontier.co.uk/threads/walkthrough-guardian-module-blueprints.438289/#post6856649
Guardian Weapons:
https://forums.frontier.co.uk/threads/walkthrough-guardian-weapon-blueprints.445508/#post6979326
Guardian SLFs:
https://forums.frontier.co.uk/threads/walkthrough-guardian-vessel-blueprints.446206/#post6993998
Finding Escape Pods:
https://forums.frontier.co.uk/threads/guide-fast-way-to-find-occupied-escape-pods-near-colonia.447311/
Material Engineering Database:
https://forums.frontier.co.uk/threads/elite-dangerous-scavenger-a-new-database-of-materials-for-engineers.367052/
---
Mining Info
When it comes to the Seals, one of the most important people to have around during Code Blacks is our miners.
iMU mining guide. All things mining:
https://www.reddit.com/r/EliteMiners/wiki/index
Hotspot overlap locator tool:
http://edtools.ddns.net/miner
To find the best selling price of painite:
https://eddb.io/commodity/83
iMU Discord:
https://discord.gg/jFcrtdj
Calculations for fragments coming off rock faces with lasers

| | | |
| --- | --- | --- |
| Laser Size | Factor | Power Usage |
| Small | 1.0 | 1x |
| Lance | 1.2 | 1.2x |
| Medium | 3.0 | 2x |
---
Broken Canopy Navigation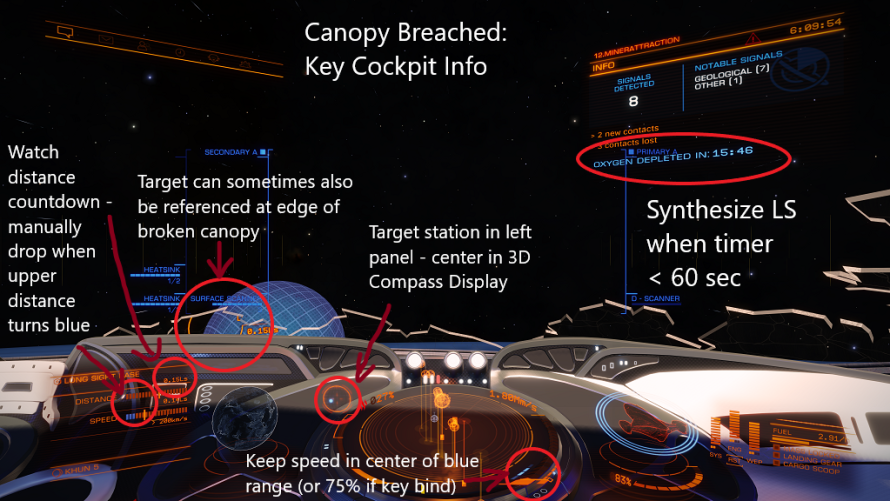 ---
Galaxy Navigation
Down to Earth Astronomy Program: https://drive.google.com/drive/folders/1Q0Ffy3ZkS6b3-GGcPVAFCPIQbTBjXEXo
Video about the software: https://www.youtube.com/watch?v=XPAjvogRp2o
Neotron's program: https://github.com/neotron/EDPathFinder/tree/1.3.0
---
Technical Guides and Tools
Keybind Backup: https://github.com/Noodles4Pasta/Save-ED-Keybinds/releases
Elite: Dangerous Ports:
These are the TCP and UDP ports in use by the game.
TCP 4430/6661
UDP 19364/3478/3479
---
Other Text Guides
Mat Farming Guide
https://docs.google.com/spreadsheets/d/1yo1iHP9KUXpoBaIzJsRsDxfAcQa7cBq0YUIFy3m2NII/edit
---
Materials
Thargoid Mats
HIP 17403 A4 crashed ship
1/2 way between the 2 lower ships, sensors will roll down the hill and can be shot to get Sensor fragments. Relog and do it again.
(my favorite location, also available at the location below)
Hyades sector aq-y d81
meta alloys and thargoid mats.
GUARDIAN MATS
Synuefe EN-H d11-96
Look for "convoy" and "ship wreckage" signal sources to find the guardian mats per Will's post here:
https://forums.frontier.co.uk/posts/7869982/
GUARDIAN DATA
Synuefe NL-N C23-4 B 3
48.1808, -48.3718
There are two Obelisks right next to each other. Stand in between them. Scan both, relog, rinse and repeat.
From CirrusFlare
Manufactured Mats
Synuefe jb-g b58-6 6h
"Camp C-N04"
Or
Hyades Sector DR-V c2-23 A 5
Dav's hope
Or any high-grade signal source
HIP 12099 planet 1b
Jameson's crashed cobra
For data mats and trade.
Raw mats
Outotz HD-J D9-3
Planet B 8 D Antimony.
HiP 36601
Planet C 1 A Polonium
Planet C 1 D Ruthenium
Planet C 3 B Tellurium
Planet C 5 A Technetium.
Outotz LS-K D8-3
Planet B 5 A Yttrium
---
Recommended Engineering Pins
Your mileage may vary. However, for a general feel of things, this is the "Community-Suggested" pins.
Core Internals
Selene Jean: Armor (not HRPs, because you can taxi HRPs out and do them there)
Hera Tani: Power Plants (Armored)
Elvira Martuuk: FSD (Longrange)
The Dweller: Distributors
Professor Palin: Thrusters
Lori Jameson: Life Support (No G5s)
Juri Ishmaak: Detailed Surface Scanner
Marco Qwent: Power Plants (Overcharge up to G4)
Felicity Farseer: FSDs (Shielded)
Tiana Fortune: Sensors
Optional Internals
Lei Chung: Shield Generators
Bris Dekker: FSD Interdictors (No G5s)
Utility Slots
Didi Vatermann: Shield Boosters
Ram Tah: Heatsinks
Weaponry
The Sarge: Cannons
Broo Tarquin: Beams/Pulses/Bursts
Zacariah Nemo: Frag Cannons
Liz Ryder: Missiles or Torpedoes
Tod McQuinn: Multicannons or Rails
Bill Turner: Plasma Accelerators
---
Quick and Dirty Seal Ships
No Engineering, No Fluff, quick and dirty.
Asp X
https://s.orbis.zone/47h3
Krait Phantom
https://s.orbis.zone/47h9
Anaconda
https://s.orbis.zone/47hc
Ship Technical Stats
Jump Ranges:
https://tinyurl.com/upjump/
How to Get Ships Fast:
Nemisis_quick_build_guide.docx
ARX
Completely subject to change.